Research article
Open Access
Open Peer Review
This article has Open Peer Review reports available.
Attentional and affective consequences of technology supported mindfulness training: a randomised, active control, efficacy trial
BMC Psychology
BMC series – open, inclusive and trusted
2016
4:60
Received: 1 June 2016
Accepted: 22 November 2016
Published: 29 November 2016
Abstract
Background
Mindfulness training (MT) programs represent an approach to attention training with well-validated mental health benefits. However, research supporting MT efficacy is based predominantly on weekly-meeting, facilitator-led, group-intervention formats. It is unknown whether participants might benefit from neurofeedback-assisted, technology-supported MT (N-tsMT), in which meditation is delivered individually, without the need for a facilitator, travel to a training site, or the presence of a supportive group environment. Mirroring the validation of group MT interventions, the first step in addressing this question requires identifying whether N-tsMT promotes measurable benefits. Here, we report on an initial investigation of a commercial N-tsMT system.
Methods
In a randomized, active control trial, community-dwelling healthy adult participants carried out 6 weeks of daily practice, receiving either N-tsMT (n = 13), or a control condition of daily online math training (n = 13). Training effects were assessed on target measures of attention and well-being. Participants also completed daily post-training surveys assessing effects on mood, body awareness, calm, effort, and stress.
Results
Analysis revealed training effects specific to N-tsMT, with attentional improvements in overall reaction time on a Stroop task, and well-being improvements via reduced somatic symptoms on the Brief Symptom Inventory. Attention and well-being improvements were correlated, and effects were greatest for the most neurotic participants. However, secondary, exploratory measures of attention and well-being did not show training-specific effects. N-tsMT was associated with greater body awareness and calm, and initially greater effort that later converged with effort in the control condition.
Conclusions
Preliminary findings indicate that N-tsMT promotes modest benefits for attention and subjective well-being in a healthy community sample relative to an active control condition. However, the findings would benefit from replication in a larger sample, and more intensive practice or more comprehensive MT instruction might be required to promote the broader benefits typically reported in group format, facilitated MT.
Trial registration
Current Controlled Trials ISRCTN43629398. Retrospectively registered on June 16, 2016.
Keywords
Somatic SymptomAttentional BlinkStroop TaskIncongruent TrialMindfulness Training
Background
Modern mindfulness training (MT) aims to apply ancient contemplative traditions to reduce human suffering. The most well-studied MT programs represent clinically-efficacious appropriations of these traditions [1], interventions increasingly recognized for their ability to reduce stress, improve emotion regulation, and strengthen attentional control [2–4]. MT involves changing how one relates to life experience, a transformation initiated by intentionally directing attention away from conceptual thought towards physical sensations with an attitude of curiosity, acceptance and kindness [5]. During formal meditation practice, distractions inevitably arise; the meditator is taught to acknowledge intrusions and non-judgmentally return attention to the breath [6], thus supporting a relaxed but attentive awareness, a 'decentered', reflective relationship with thoughts, feelings, and sensations [7]. This reflective stance stands in contrast to seemingly obligatory habits of avoiding or pursuing experiences that are thought to lie at the heart of many modern affective disorders [8, 9].
One criticism of the growing MT literature is that there is little evidence defining the 'minimum dose' for successful training. MT is most widely studied via manualized, multifaceted clinical interventions, which prescribe an hour or more of daily practice over 8 weeks, combined with weekly-meetings in a facilitator-led group course format [10, 11]. This dose and duration is largely a product of historical precedent rather than evidence-based medicine. Indeed, the MT 'minimal dose' may be substantially smaller than the status quo: group interventions as brief as 20 min a day for 4 days appear to produce cognitive, affective and physiological benefits [12, 13]. A similar lack of evidence surrounds the use of group rather than individual interventions. Individualized, technology-supported MT (tsMT) approaches offer compelling advantages of customizing training to participant needs, addressing concerns around time commitment, and reaching interested practitioners who do not have access to group-facilitated MT programs. Investigating the possibility of efficacious, individualized, tsMT is therefore of significance for extending MT's benefits to a larger population.
In exploring any new therapeutic intervention, clinical trials often advance from concerns around safe dose (Phase I), uncontrolled efficacy (Phase II), to larger, actively controlled designs (Phases III and IV) [14]. In the case of tsMT, tens of thousands of users already employ this technology without evidence for elevated risk of adverse events. Yet despite its rapid popularization, there are also few (if any) experimental demonstrations of tsMT efficacy. Thus an appropriate first step in beginning MT research may be the exploration of whether tsMT has therapeutic efficacy. Given the inevitable expectancy effects involved in using therapeutic technology, some degree of experimental control seems necessary to the investigation. The current study was designed to address this research gap, i.e., to explore whether tsMT has therapeutic efficacy at its most common dose, relative to an active control training condition.
Targets of mindfulness training
In assessing MT efficacy, the areas of attention and subjective well-being are the most well-established proximal targets of change. In contemplative theory, the cultivation of attentional control allows practitioners to observe emotional experiences without obsession or avoidance, yielding benefits to well-being, including, but not limited to the promotion of a relaxation response [15, 16]. This account is consistent with modern psychological theory, in which negative health consequences are associated with both habitual rumination [17] and suppression of emotional experience [18]. Accordingly, the extent to which intensive meditators are able to cultivate attentional control has been associated with improvements in self-reported adaptive socioemotional functioning [19]. While the dynamic interplay between attention and well-being warrants further investigation, one might reasonably expect MT-related improvements in attention and well-being to be correlated in magnitude.
Distinct studies support the idea that attention and well-being are cultivated through MT. Attention appears to be consistently impacted by MT [20–22], with effects most pronounced after intensive training. For example, 3-months of intensive MT improved the ability to sustain attention during a dichotic listening task as evidenced by faster reaction times in response to a deviant tone, and reduced attentional blink responses when compared to controls [23, 24]. Experienced meditators have shown elevated performance on classic tests of attention such as the Stroop task and the D2 Concentration and Endurance task [25]. Additionally, long-term meditation practice has been found to reduce attentional blink in older adults when compared to age-matched and younger adults [26]. In neural terms, extensive MT appears to increase activation in executive attention networks [27], changes which may correlate with behavioral improvements in sustained attention and error monitoring [28]. It is unknown whether these benefits begin to manifest after shorter courses of attention training, although attention likely improves gradually with training.
Complementing findings of improved attention, MT has been consistently associated with improved subjective well-being. Mindfulness-based Stress Reduction (MBSR) and related programs have been found to improve mood and self-reported emotional health [29], and are associated with improvements in immune system functioning [30], stress [31], and emotion regulation [32]. MT is predicated on teaching participants to respond non-judgmentally rather than reacting out of habit to stressful events by focusing on dynamic sensory stimuli, such as the breath, body, or sounds and sensations of eating and walking. As participants learn these skills, top-down control processes are thought to regulate affective appraisals that lead to a reduction in stress responses [33]. Neurally, MBSR-related improvements in well-being have been associated with less suppression of interoceptive processing following emotional stress, as indexed by reduced stress-related suppression of the right posterior insula [34], the putative primary representation cortex for feeling states within the body [35]. In this study, less insula suppression was linked to lower severity of depressive symptoms in a community sample. Taken together, the effects of relatively brief, tsMT interventions can be assessed using well-established metrics of attention and subjective well-being.
Technology-supported mindfulness training
Despite tsMT's promise of expanded access and training customization, several challenges are apparent in translating the training from manualised, group-led MT interventions. The technology must address several important elements of more conventional MT, such as providing a motivating training experience, and useful feedback to normalize and direct training efforts. Neurofeedback is one promising method avenue for tsMT, in which some aspect of brain activity is reported back to participants in real-time. Neurofeedback-assisted tsMT (N-tsMT) has the potential for motivating practice by providing brain activity readings that would normally be inaccessible to the practitioner, and these signals may cultivate an expectation of customized training that would be absent in tsMT applications that rely on pre-recorded lessons and guided meditations. While several neurofeedback modalities exist [36], only electroencephalography has already been featured in commercial applications. We focus here on EEG-based N-tsMT, which involves training to modulate brain activity in response to non-invasive measurement of scalp electrical potentials along one or more electrical frequency bands.
While it is likely that particular neurofeedback algorithms have greater efficacy than others for training cultivating particular forms of attention or well-being, comparing algorithms may be premature when investigating whether N-tsMT can promote cognitive and affective benefits. A variety of neurofeedback algorithms have been employed in laboratory settings [37–42], with comparable benefits across a variety of cognitive domains, including sustained attention, executive function, memory, spatial rotation, complex psychomotor skills, reaction time, intelligence, mood, and well-being [43]. Similarly, several distinct lab-based neurofeedback algorithms for meditation have been linked to greater subjective well-being [44, 45]. There is presently no consensus on the optimal algorithm for computing N-tsMT feedback, and as most studies have not used active control comparisons, it is unclear that any neurofeedback algorithm promotes the many benefits linked to N-tsMT practice.
Given a lack of agreement on an optimal neurofeedback algorithm from lab-based studies, and the current availability of a commercial N-tsMT platforms, it may be prudent to first investigate whether existing N-tsMT applications are beneficial before investigating particular training mechanisms or comparing feedback algorithms. After all, if there is no significant benefit to attention or well-being, then arguments over algorithm efficacy are irrelevant. Furthermore, the MT instruction rather than the presence of neurofeedback may be the critical mechanistic ingredient- any paradigm that promotes motivation to engage in daily practice and an expectation of benefit is likely to promote benefits associated with more standard forms of MT. For this reason, the present study is purposefully agnostic as to neurofeedback algorithm, but instead investigates whether commercial N-tsMT promotes benefits relative to an active control, non-meditative training condition.
Here, we present the first empirical investigation of the effectiveness of a commercial N-tsMT system to assist participants in a self-guided, 6-week home-based practice. Relative to a randomized, active-control training condition, participants were assessed on our hypothesized target measures of attention and well-being before and after training. The goal of the study was to investigate whether N-tsMT could benefit attention and/or well-being in an ecologically-valid research paradigm. Specifically, we hypothesized that 6 weeks of N-tsMT would promote greater improvements to well-being and attention relative to training in the active control condition.
Methods
We compared 10 min of daily N-tsMT against a cognitively-demanding active control training condition in healthy adults over a 6 week period. Participants were randomly assigned to condition with equal allocation to each condition. At baseline and following training, participants were assessed on a variety of attention and affective measures, in addition to completing daily assessments of mood, stress, and practice quality throughout the training period. Concurrent research-grade EEG was also acquired during baseline and post-intervention testing, and will be described in a subsequent report.
Results
Attention
Analysis of overall Stroop RT revealed a significant interaction between group and time, Z = 3.29,
p
 < .001,
r =
 .65, such that N-tsMT uniquely improved processing speed, despite equivalent accuracy between groups and time points (Table
1
; Fig.
2a
).
Table 1
Summary of training effects
MT

Control

Baseline

Post-intervention

Change

Baseline

Post-intervention

Change

Time x Group r

Primary measures

 Attention (Stroop)

  Mean RT

489.3 (61.3)

457.0 (65.4)

−32.3 (15.4, 49.0)

465.2 (55.1)

469.7 (51.4)

4.4 (−17.6, 9.7)

.65

  Interference Cost

129.5 (56.0)

98.1 (37.9)

−31.4 (6.0, 57.7)

97.0 (35.4)

88.1 (33.9)

−8.9 (−13.4, 30.5)

.27

 Well-Being (BSI)

  Somatic

9.3 (3.4)

7.5 (2.8)

−1.8 (−4.0, −0.0)

6.8 (1.3)

8.0 (2.7)

1.2 (0.0, 5.0)

.55

  Depression

9.7 (4.7)

8.9 (3.4)

−0.8 (−1.5, 3.5)

8.8 (3.8)

8.8 (4.3)

0.1 (−2.0, 1.5)

.15

  Anxiety

6.4 (3.0)

5.2 (1.4)

−1.2 (−0.5, 2.5)

5.9 (2.5)

5.8 (2.6)

−0.1 (−2.0, 2.0)

.22

Exploratory measures

 Attention

  Digit span

   Forward span

6.2 (0.8)

5.9 (1.2)

−0.3 (−1.0, 1.5)

6.3 (1.1)

6.6 (1.0)

0.3 (−1.0, 0.0)

.31

   Backward span

4.7 (1.4)

4.5 (1.0)

−0.2 (−1.0, 1.0)

5.8 (0.9)

5.2 (1.3)

−0.6 (−0.5, 2.0)

.19

  D2 Test

   Commit Error %

0.5 (0.7)

0.3 (0.4)

−0.2 (−0.1, 0.5)

0.9 (1.8)

0.9 (2.0)

0 (−1.5, 1.6)

.20

   Omit Error %

9.0 (5.4)

7.4 (5.6)

−1.6 (−3.0, −0.1)

9.1 (6.2)

8.4 (5.5)

−0.7 (−0.6, 2.2)

.27

 Well-Being

  Mindfulness

38.2 (7.4)

37.3 (9.0)

−0.8 (−3.0, 4.5)

39.8 (3.8)

39.9 (4.8)

0.2 (−4.5, 4.0)

.08

  Positive affect

32.8 (4.8)

34.3 (6.5)

1.5 (−4.5, 1.0)

34.4 (5.0)

34.6 (4.4)

0.2 (−2.5, 1.5)

.18

  Negative affect

22.8 (7.2)

18.2 (5.2)

−4.7 (−1.0, −10.0)

21.5 (5.9)

20.4 (7.2)

−1.1 (−0.5, 3.5)

.26

  Quality of life

   Overall

4.2 (0.8)

4.0 (0.7)

−0.2 (a)

3.9 (0.6)

3.9 (0.5)

0.0 (−1.0, 1.0)

.14

   Physical

26.6 (4.7)

27.2 (4.7)

0.5 (−2.5, 1.0)

28.2 (2.6)

28.8 (3.0)

0.5 (−3.0, 2.0)

.03

   Psychological

21.2 (3.3)

22.2 (2.8)

1.1 (−2.5, −0.0)

22.0 (2.8)

21.6 (2.8)

−0.4 (−1.5, 2.0)

.36

   Social

10.8 (2.0)

11.8 (2.0)

0.9 (−3.0, 0.5)

11.2 (2.0)

11.2 (2.2)

0 (−1.5, 1.5)

.24

  Personality

   Extraversion

26.4 (6)

26.4 (5.9)

0.0 (−2.0, 2.0)

26.7 (4.9)

27.2 (5.0)

0.5 (−2.0, 1.0)

.20

   Agreeableness

35.5 (5.5)

35.2 (5.8)

−0.2 (−2.5, 3.0)

34.7 (7.5)

34.0 (6.9)

−0.7 (−0.5, 2.0)

.06

   Conscientiousness

29.8 (6.7)

30.8 (5.2)

0.9 (−3.5, 2.0)

31.7 (6.5)

31.1 (6.1)

−0.6 (−1.0, 3.0)

.33

   Neuroticism

20.5 (8.2)

19.5 (6.6)

−1.1 (−1.0, 3.5)

20.4 (4.8)

20.8 (4.7)

0.5 (−3.0, 2.0)

.25

   Openness

39.3 (7.8)

40.2 (7.2)

0.8 (−4.0, 2.0)

38.2 (4.5)

38.0 (4.7)

−0.2 (−2.0, 3.0)

.09

Our a priori hypothesis predicted changes to Stroop interference costs, rather than overall RT. While the N-tsMT group showed a numerically greater reduction in interference costs than the Control group (31 ms vs. 9 ms), the interaction between group and training was not significant, Z = 1.38, p = .17, r = .27. No training effects were observed for Stroop task accuracy. Exploratory measures of attention, such as the digit span and d2 tests, did not reveal any training effects.
Well-being
A significant interaction was observed between group and time on the Somatic Symptom subscale of the BSI, Z = 2.81, p = .004, r = .55, such that N-TSMT significantly reduced somatic symptoms relative to the Control group. No effects were observed for the depression or anxiety factors of the BSI, nor for the exploratory measures of mood, mindfulness, and quality of life.
Attention/Well-being relationship
Improvements in somatic symptoms were predicted by changes in Stroop RT, r(24) = .44, p = .024, such that greater improvements in RT predicted greater reductions in somatic symptoms (Fig. 2, Panel c). This association was not apparent between Stroop RT and depression and anxiety subscale scores of the BSI.
Dispositional predictors of treatment response
Of the dispositional indicators at baseline, only neuroticism was related to training-related changes in the N-TSMT group. Somewhat surprisingly, higher neuroticism was associated with greater reductions in somatic symptoms, r(11) = −.70, p = .007. This relationship was not observed within the Control group, r(11) = .18, n.s. Changes in Stroop performance were not associated with baseline dispositional variables.
Experience sampling
Participants averaged 32 (SD = 9.2) daily responses over the 42 day training period (Table
2
). Both groups were equally adherent to training. The N-TSMT group consistently reported greater calm following practice sessions than the control group, t(36) = 2.16,
p
 = .04 (Fig.
3
, Panel a), and greater body awareness, t(36) = 2.03,
p
 < .05 (Panel b). The N-TSMT group reported putting in significantly greater effort than the control group, t(36) = 2.54,
p
 = .02, an effect that reduced over time, as expressed through a group x time interaction, t(1047) = −2.00,
p
 = .046 (Panel c). No effects on daily stress or the other daily experience measures were observed. Average experience sampling variable scores were not significantly correlated with changes in attention and well-being. Baseline effort was included as a potential moderator of the attention and well-being models, but did not interact significantly with Group and Time to predict our primary dependent variables. Dispositional neuroticism, which was positively linked to treatment response, was included as a post hoc moderator in the experience sampling models for calm, body awareness, and effort, but did not contribute significantly to any of these models.
Table 2
Summary of experience sampling growth curve effects
| | Intercept | Time | Group | Time x Group |
| --- | --- | --- | --- | --- |
| Body | 4.23 | 0.00 | 0.50 | 0.00 |
| Calm | 4.25 | 0.00 | 0.51 | 0.00 |
| Emotional activity | 4.36 | 0.00 | −0.30 | 0.00 |
| Feedback quality | 4.52 | 0.00 | −0.05 | 0.01 |
| Focus | 4.68 | 0.00 | −0.16 | 0.01 |
| Pleasantness | 4.54 | 0.00 | 0.27 | 0.01 |
| Effort | 4.86 | 0.00 | 0.47 | −0.01 |
| Stress | 3.47 | 0.01 | 0.33 | −0.01 |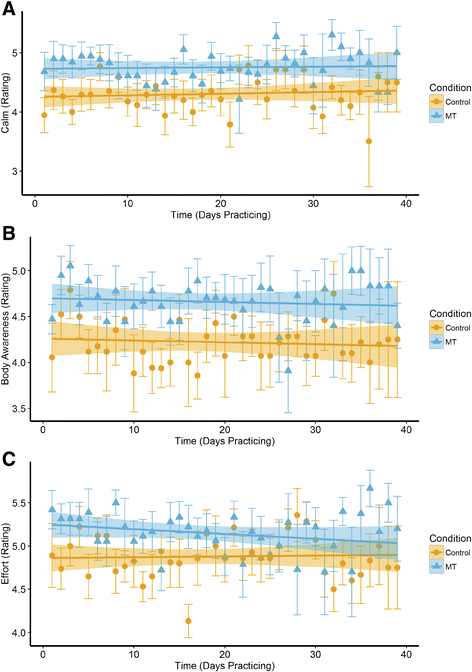 Discussion
This is the first experimental study to examine the benefits of N-tsMT in a healthy community sample relative to an active control group. We investigated the consequences of 6 weeks of daily 10 min training sessions, contrasting breath-focused meditation against algebra exercises. The study assessed training effects on two primary dependent variables: attention and well-being. We hypothesized that training would benefit both attention and well-being, and these hypotheses were partially supported. Numerous additional exploratory variables were also included to establish the specificity of the training effects- our findings give no indication that the training transferred to these exploratory domains.
The primary measure of attention was the Stroop task, one of the most widely studied behavioural measures of attentional control. The primary dependent variable associated with Stroop performance is the interference score, the RT cost of naming color/name incongruent words relative to color/name congruent words. However, the Stroop task also affords a measure of overall attention speed in the form of average RT across the task. Relative to active control, N-TSMT was uniquely associated with faster RT across the Stroop task, an effect apparent in both the congruent and incongruent conditions. It may therefore be reasonable to infer from our data that the N-tsMT intervention enhanced attention speed, but did not specifically affect interference resolution. The observed effect size for Stroop interference in this study (r = .27) is equivalent to a Cohen's d = .56, which is much smaller than the d = 1.1 reported in the literature [25]. This difference may stem from a weaker effect of N-tsMT compared to more intensive meditation, or from the current study's use of an actively-controlled, pre-post interaction design as compared to prior reports of cross-sectional designs. The enhanced attention speed effect amounts to a d = 1.7, an effect not previously reported in literature and requiring further investigation.
The primary measure of well-being was the BSI, a well-validated clinical instrument for detecting and monitoring symptoms of depression, anxiety and somatization. We hypothesized meditation-unique improvements across all domains on this measure. The data partially supported this hypothesis, showing reductions in somatic symptoms following N-tsMT relative to active control. The effect size for this change in somatic symptoms (r = .55) is equivalent to a Cohen's d = 1.3, which mirrors affective symptom change in our prior research [34]. However, these prior studies showed effects across a variety of affective symptom domains; in the current study, depression and anxiety symptoms were not significantly affected by training. Indeed, the effect sizes for reductions in depression (d = .3) and anxiety (d = .45) were much smaller than those found in the literature. Given the focus of the MT instructions on the somatic experience of the breath, it is perhaps unsurprising that training effects were limited to the somatic domain, but it suggests that greater levels of practice, or the introduction of other components of manualized interventions are required to promote more general improvements across affective symptom domains. At the least, we may infer that the N-tsMT intervention has promise for improving healthy participants' relationships with somatic experience, reducing negative appraisals of the varied physical sensations of daily life.
An intriguing relationship was observed between training-related changes in attention and well-being, such that improvements on Stroop RT were moderately associated with reductions in somatic symptoms. This relationship was largely maintained within the N-tsMT group, belying suggestions that this observed correlation is simply an artifact of correlating two variables selected on the basis of their group by time interactions. The causal relationship between changes to attention and subjective well-being cannot be inferred in the current study design, and it seems equally plausible that better attention allows for greater feelings of well-being, but conversely reduced intrusive thoughts around somatic symptoms might also free attentional resources and improve performance. However, as the N-tsMT instruction focused on the stabilization of attention, it seems that attention changes may be more proximal markers of the training. Furthermore, the coupling between improvements in attention and well-being is consistent with a contemplative training literature that proposes the stabilization of attention as a resource for "skillful means", the ability to clearly and directly care for oneself and others even in the face of acute stress. Nevertheless, the hypothesis that attention changes cause improvements in well-being requires further investigation.
Of the baseline indicators included in the study, only neuroticism predicted training-related changes. This prediction was limited to somatic symptoms and not Stroop performance, consistent with the well-established literature associating emotional volatility with reports of affective distress. This finding suggests that the therapeutic benefits of N-tsMT may be particularly evident in individuals with chronic tendencies towards worry and emotional volatility, avoiding symptom 'floor effects' that may be evident in an asymptomatic healthy community sample.
To better appreciate the quality of participant experience during training sessions, a daily experience sampling approach was also employed. Relative to active control, N-tsMT provoked greater feelings of calm and body awareness following each training session. N-tsMT was initially perceived as more challenging than the active control condition, although reported meditation effort declined with time, until it was indistinguishable from control condition effort by the end of the 6 week period.
Together, the data support the idea that repeated brief sessions of N-tsMT improve attention and well-being relative to an active control math learning condition. However, the effects of training are specific, with improvements limited to faster overall RT and reduced somatic symptoms. Related measures of attention, and related indices of well-being such as depression and anxiety symptoms, quality of life, or dispositional mindfulness were not specifically enhanced by N-tsMT. This lack of transfer to related domains suggests that greater practice time, more general MT instructions, or some combination thereof might be required to replicate the broader benefits of more intensive, group-led meditation programs.
Limitations
One clear limitation to the present exploratory study lies in its sample size. While 13 participants per group is relatively common for training intervention studies, it still warrants replication in larger samples would to firmly validate these promising effects. Our power analyses were designed to detect medium-to-large effects, and so we must remain agnostic to the possibility that a large sample would have detected more modest effects in the non-significant measures. Nonetheless, participants retained in the study were well-matched between the groups, and showed equivalent practice adherence. Given such tight controls, it is encouraging that positive effects of training were observed in our primary outcome measures, as an actively-controlled mixed-model intervention design yields a comparable quantity of measurements to a cross-sectional study twice its size.
A second limitation to this study is that it cannot adjudicate between competing mechanistic accounts of the study findings. Traditional MT interventions are likely efficacious due to multifaceted blends of meditation practice, didactic content, group support and positive expectancy effects [70]. The current N-tsMT study removed the element of group support and didactic content but introduced neurofeedback, and so it is impossible to distinguish whether study findings are a consequence of the neurofeedback, positive expectancy, or meditation practice itself. However, the goal of the study was not to dismantle N-tsMT to identify a specific mechanism, but rather to gauge whether N-tsMT promoted benefits comparable to a literature of in-person, facilitator-led, group interventions. Without documented evidence of efficacy, there is little point to searching for a specific mechanism. Thus we explicitly make no claim that the neurofeedback was the active element in producing the study effects, but rather remain agnostic as to the underlying mechanism.
A third potential issue with the current study is that we provided multiple incentives for daily practice, both in the form of pro-rated compensation per day of practice, and in the form of e-mail and phone reminders should participants miss subsequent days of practice. Such incentives may have elevated our adherence levels relative to more naturalistic usage of the training technology. However, adherence was not significantly lower for the N-tsMT condition relative to active control, suggesting that despite greater effort reported in completing earlier N-tsMT sessions, the training is comparably engaging compared to online training courses. As such, adherence issues are not likely to be of greater concern for N-tsMT than for other electronic learning technologies.
A more general limiting implication to this research lies in the real-world significance of the observed effects. We did not observe transfer of benefits across tests of attention beyond our primary measure, and even our primary measure of well-being only truly showed effects in the domain of somatic symptoms. The limited effects on well-being are perhaps due to the focus of the MT to concentrate attention on visceral sensation of the breath rather than broader mood state or social factors. Thus, to generalize benefits, future implementations of N-tsMT may require practices that tap into broader affective domains, analogous to the progression of content in standardized 8-week group meditation courses such as MBSR or MBCT. Another clue around transfer comes from the somewhat surprising finding that participants with the highest baseline neuroticism scores were the ones to benefit the most. It may be that our ability to observe clinically-meaningful changes is limited in a relatively healthy community sample- larger effect sizes may be apparent in clinical populations who begin treatment with elevated markers of anxiety, depression, and generalized stress.
In conventional MT programs, meditation practice begins with body sensation but progresses more broadly to include awareness of sounds, feelings, and thoughts. Such programs also include informal practices aimed to facilitate the use of mindful attention in daily life. It seems that with greater breadth of practices, transfer of beneficial effects across affective domains are more likely to be observed. Furthermore, such programs assign over 40 h of formal meditation practice over an 8-week period, whereas here we requested only 7 h total practice for full adherence. Issues of minimal dose and meditation style are the topic of ongoing investigation in the contemplative literature and will hopefully be clarified with further study.
Conclusions
Here we have presented the first actively-controlled evidence that N-tsMT delivered through consumer-grade EEG promotes promising benefits for attention and well-being. While our findings are modest, they provide a supportive indication for the feasibility and utility of such technology for client-centered training for positive self-transformation. How best to further validate, optimize and generalize the effects of such training will be of considerable interest as the marketplace for such adaptive technologies matures.
Abbreviations
BSI:

Brief symptom inventory
FMI:

Frieberg mindfulness inventory
MT:

Meditation training
N-tsMT:

Neurofeedback-assisted technology-supported meditation training
PANAS:

Positive and negative affect schedule
REML:

Restricted maximum likelihood estimation
RT:

Reaction time
tsMT:

Technology-supported meditation training
WHOQOL-BREF:

Brief Version of the World Health Organization quality of life scale
Declarations
Funding
The study was supported by a MITACS Engage Grant and an Ontario Centres for Excellence VIP industry partnership grant between the University of Toronto and Interaxon Inc.
Availability of data and materials
The complete dataset is available online as a supporting file in comma spaced value (csv) format.
Authors' contributions
SB and PT conducted participant recruitment, assessment, adherence monitoring, managed data, and contributed to drafting the manuscript. DL participated in study design, ethics approval, task programming, and manuscript revision. GM and LP contributed to study design, adherence monitoring, and manuscript revision. SM contributed to study design and manuscript revision. NF contributed to study design, project management, data analysis, and led manuscript drafting and revision. All authors read and approve the final manuscript.
Competing interests
Lou Pino and Graeme Moffat are employees of Interaxon Inc., the makers of the Muse neurofeedback headband that was used to deliver the technology-supported mindfulness intervention. As such, they have a competing financial interest in the study. The rest of the research team members have no competing interests in the study, financial or otherwise. While Drs. Pino and Moffat consulted on study design and implementation, made Muse technology available to study participants, and offered comments contributing to the drafting of the manuscript, at no time did the authors with competing interests have access to the raw data, perform analyses, report results, or attempt to prevent disclosure of findings.
Consent for publication
Not applicable- no details, images, or videos relating to individual participants are included.
Ethics approval and consent to participate
All research was performed in accordance with the Declaration of Helsinki, and was approved in advance of data collection by the Research Ethics Boards of both the assessment site Baycrest (#12-54), and the University of Toronto (#31579). All research participants gave informed consent to participate, in accordance with the approved ethics protocols describe above.
Open AccessThis article is distributed under the terms of the Creative Commons Attribution 4.0 International License (http://creativecommons.org/licenses/by/4.0/), which permits unrestricted use, distribution, and reproduction in any medium, provided you give appropriate credit to the original author(s) and the source, provide a link to the Creative Commons license, and indicate if changes were made. The Creative Commons Public Domain Dedication waiver (http://creativecommons.org/publicdomain/zero/1.0/) applies to the data made available in this article, unless otherwise stated.
Authors' Affiliations
(1)
Department of Psychology, University of Toronto Mississauga, Mississauga, Canada
(2)
University of Colorado Boulder, Boulder, USA
(3)
Interaxon Inc., Toronto, Canada
(4)
Simon Fraser University, Burnaby, Canada