Research article

Open Access

Open Peer Review
This article has Open Peer Review reports available.
Rumination and interoceptive accuracy predict the occurrence of the thermal grill illusion of pain
Received: 8 April 2014
Accepted: 11 July 2014
Published: 18 July 2014
Abstract
Background
While the neurophysiological mechanisms underlying the thermal grill illusion of pain (TGI) have been thoroughly studied, psychological determinants largely remain unknown. The present study aimed to investigate whether cognitive and affective personality traits encompassing rumination, interoception, and suggestibility may be identified as characteristics favouring the elicitation of paradoxical pain experiences.
Methods
The dominant hand of 54 healthy volunteers was stimulated with a water-bath driven thermal grill providing an interlaced temperature combination of 15 and 41°C. Pain intensity and pain unpleasantness perceptions were rated on a combined verbal-numerical scale (NRS). Traits were assessed via questionnaires, the heartbeat-tracking task, and warmth suggestions.
Results
Logistic regression analyses uncovered trait rumination and interoceptive accuracy (IA) as major predictors of the likelihood of the illusive pain occurrence (all p < .05). Rumination and suggestibility had an impact on unpleasant pain perceptions.
Conclusion
Our findings allowed identifying psychological factors substantially involved in the individual pre-disposition to reporting painful sensations in the thermal grill paradigm. These psychological characteristics may also be relevant in the context of central neuropathic pain, which to a large extent incorporates the same neural pathways.
Keywords
Pain Intensity
Trait Anxiety
Pain Catastrophizing
Pain Catastrophizing Scale
Central Neuropathic Pain
Background
Thermal grill illusion of pain
Since Thunberg revealed in 1896 that interlaced and non-noxious cold and warm stimuli applied to the skin generate the thermal grill illusion of pain (TGI), a paradoxical feeling of pain, the underlying neurophysiological mechanisms have thoroughly been studied (Craig and Bushnell 1994; Craig et al. 1996, 2000; Kern et al. 2008; Lindstedt et al. 2011b). Functional imaging studies on the TGI have uncovered an involvement of cerebral structures like the contralateral thalamus (Lindstedt et al. 2011b), the anterior cingulate cortex (Craig et al. 1996), and the insula (Craig et al. 2000) that are to a large extent also involved in the regulation of emotions and of interoceptive awareness (Craig 2002). Since the identified neuroanatomical substrates suggest that the illusive pain might share common mechanisms with central neuropathic pain, the thermal grill has been used as a model for the investigation of central pain-related neural activity (Craig 2008).
Inter-individual differences in thermal grill responsiveness
A number of studies have provided evidence for inter-individual differences in thermal grill-related pain sensitivity (Boettger et al. 2011; Bouhassira et al. 2005, Lindstedt et al. 2011a). It could be shown that painful sensations in response to thermal grill stimulation were only perceived by about one third of the participants. Those individuals were qualified as responders to the TGI, whereas those who reported non-painful warm or/and cold sensations or very low pain were described as non- or poor-responders (Boettger et al. 2013; Bouhassira et al. 2005). The reasons for the observed inter-individual differences in TGI susceptibility remain unknown to this point.
We hypothesized that the described differences in susceptibility to the expression of pain could at least partly be related to psychological features. The identification of the previously mentioned cortical areas involved in the TGI as well as in emotional regulation (Craig 2002) seems to underpin this assumption. Further support may be derived from the multidimensional character of pain (Wiech and Tracey 2009) implying that psychological factors are heavily involved in the regulation of pain sensitivity in different pain conditions or experimental pain models. It could in particular be shown that affective and cognitive characteristics promote discrepancies between induced and perceived pain intensity levels (Pennebaker 1999; Wiech and Tracey 2009). Subjects with high levels of anxiety or attention to pain did e.g. display more pronounced ratings to noxious stimulation than people exhibiting lower values of the mentioned psychological characteristics (Tang and Gibson 2005).
So far however, investigations on the impact of psychological features on the manifestation of paradoxical pain responses remain very scarce. Only the pain enhancing effects of depression and sad mood on thermal grill-activated central pain processing have been confirmed in clinical studies (Boettger et al. 2011; Piñerua-Shuhaibar et al. 2011).
Personality traits and pain
In this framework, we turned towards personality traits that have been identified as important pain modulating factors in classical pain research (i.e. under conditions of evident noxious stimulation). Psychological characteristics such as pessimism, pain catastrophizing, anxiety and related negative affectivity (Crombez et al. 1998; Sullivan et al. 2001a; Affleck et al. 2001), maladaptive coping styles (Keefe et al. 1989; Smith and Alloy, 2009) or biased cognitive processes (Crombez et al. 2013) have repeatedly been described to be associated with increased pain perceptions or pain distortions (Crombez et al. 1998; Edwards et al. 2006; James and Hardardottir 2002; Sullivan et al. 2001a, 2005; Tang and Gibson, 2005; Wiech and Tracey, 2009).
Methods
Participants
A sample of 66 healthy participants comprising student and staff populations of the University of Luxembourg was screened. Health-related issues were retrieved with a medical history questionnaire. Depression or mood problems were in addition appraised on the basis of the self-report trait and state questionnaires. Only volunteers without psychological-, cardiovascular-, neurological-, pain-, and skin-related disorders or problems were included in the study. Drugs and pain medication intake 24 hours before experimental testing were also considered as exclusion criteria. Prior to the experimental session, participants were informed that the study was about investigating potential differences in temperature-related perceptions. Furthermore, the volunteers were briefed about the anonymization of the obtained data and their right of withdrawal without any further consequences. All participating volunteers gave informed consent. The true scientific rationale of the study was provided in the debriefing at the end of the laboratory session. The experimental protocol was approved by the National Research Ethics Committee (ref. 1102–59) and complied with the ethical guidelines of the International Association for the Study of Pain (IASP; Charlton, 1995). Ten participants were excluded from the study since they experienced pain in the control conditions i.e. when stimulated with neutral 32°C (normal skin temperature) in combination with either the warm or cold temperature used for the elicitation of the TGI. The 11th 'outlier' could not be included in the final sample due to technical problems with the thermal grill and incomplete pain ratings. The data of one participant displaying depressive symptoms were excluded from the analyses. The final sample included 54 participants [26 males, 28 females, M = 24.1 years (SD = 6.01), range 18–51 years]. All volunteers were financially compensated.
Material
Thermal grill and accessories
A custom-built and water-bath driven thermal grill device was used to elicit the paradoxical pain (Curio, I., PhD, Medical Electronics, Bonn/Germany). The thermal grill was composed of eight alternating cold and warm pipes made of borosilicate glass. The glass pipes were spaced at a distance of 7.5 mm by means of separating bars to prevent any 'mixing phenomenon' between pipes. The bars were made of 5 mm hollow (thickness 0.5 mm) polyvinyl chloride (PVC) with negligible thermal conductivity. The total surface of the rectangular pipes measured 20 × 10 cm (see Figure
1
). The temperatures were regulated with two separate thermoelectric recirculating chillers (T255P, ThermoTek Inc.) delivering the water to the grill pipes through separate flexible and insulated plastic conduits. The flow rate of the pump was 3,86 l/min, approx. 15 ml/s per glass pipe. The volume of one glass pipe was about 16.5 cm
3
. The fluid content of each pipe was exchanged at a rate of about one second. The fluid temperature was continuously controlled with a digital thermometer (PL-120 T2, Voltcraft; visual display of T1-T2 temperatures in °C) placed at the manifold, where the water flow was distributed to the glass pipes. Previous measurements have shown that a stationary temperature distribution was reached about 3 s after applying the skin to the pipes.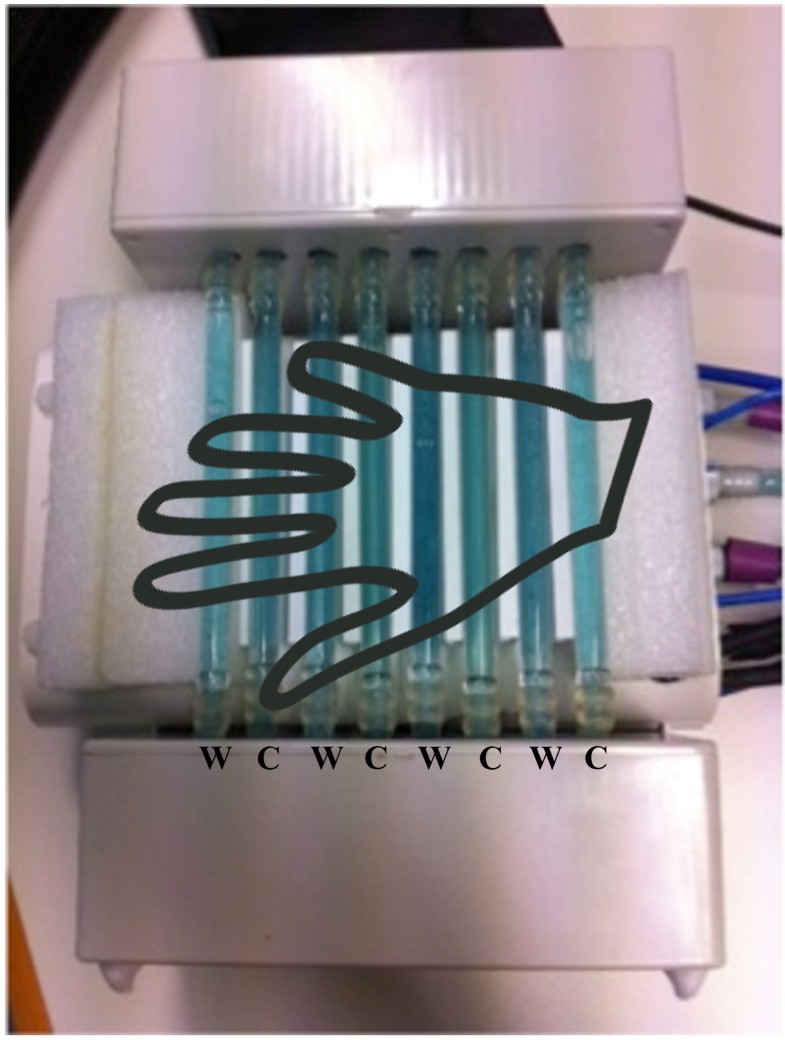 For the experimental thermal grill condition, we preferred stimulating all participants with the same fixed temperature combination of 15°C and 41°C, instead of individualized temperatures defined in association with previously assessed thermal pain thresholds (as described in studies using Peltier-driven thermal grills; Bouhassira et al.
2005
). This choice was based on the circumstance that water-bath-related temperature changes are time-consuming and on the finding that larger differences between cold and warm grill temperatures allow generating reasonable pain intensities (Boettger et al.
2011
; Bouhassira et al.
2005
; Lindstedt et al.
2011a
). The chosen temperature combination of 15°C and 41°C (difference of 26°C degrees; Boettger et al.
2011
; Bouhassira et al.
2005
; Lindstedt et al.
2011a
) was applied throughout the one-minute trials of the experimental condition (see Figure
2
). An inter-stimulus-interval (ISI) of three minutes was always respected between the trials. The same temporal procedure was applied in the two subsequent control conditions. In control condition 1, the cold temperature of 15°C was combined with the baseline temperature of 32°C, whereas in control condition 2 the warm temperature of 41°C was set together with the 32°C input (see Figure
2
). As an alternative to previous research procedures using single stimulations (e.g. 15°C in all thermal grill tubes) for control, we preferred providing dual interlaced temperature stimulations mimicking the spacing of the respective temperatures in the experimental 15°C/41°C phase. The order of the stimulation conditions was not counterbalanced to allow for comparability between the responder and non-responder groups.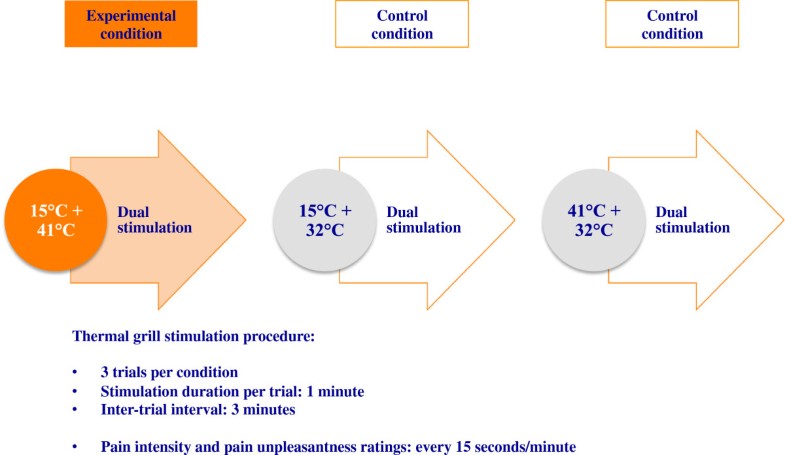 The thermal grill stimuli were always applied at the palmar side of the dominant hand. The hand of the participant was placed on the thermal stimulation surface and held in place with a cuff to warrant an equilibrated and integral contact between the hand and the grill bars. The cuff was inflated with a sphygmomanometer (mmHg) until a gentle pressure held the hand in the adequate position. The contact area of the skin to the glass bars (effective surface) was approximately 0.8 cm × 8 (effective glass pipe width in contact with skin × 8 pipes) × 11 cm (width of the hand) = 70.4 cm2. Applying a pressure of 0.7 MPa (0.071 kp/cm2 = 50 mmHg), the resulting force was about 0.5 kp. It was considered quite unlikely that the gentle pressure applied with the cuff continuously stimulated the cutaneous mechanoreceptors (which adapt fairly quickly) and influenced the perception of the TGI or changed the suggestibility of the participants. Furthermore, although a modulation of spinal nociceptive processing by concomitant low threshold A-fiber input is well established (Handwerker et al. 1975), this effect was not expected to play a role in the present stimulus conditions, which do not involve any nociceptive input to the dorsal horn that could be modulated. After each stimulation phase, the cuff was detached and the volunteers removed the hand from the grill during the ISI to prevent carry-over effects (Boettger et al. 2011; Bouhassira et al. 2005). Between the different stimulation conditions, a time interval of about 10 minutes had to be respected to allow for adjustment of the targeted grill temperature combination.
Contact heat stimulator
During the so-called generalization suggestion of the Warmth Suggestibility Scale (WSS; Gheorghiu et al. 2003), thermal stimuli of a baseline temperature of 32°C (Morin and Bushnell 1998; Lindstedt et al. 2011a) were applied with a Peltier-driven and temperature controlled contact heat evoked potential (CHEP) stimulator (Pathway, Cheps, Medoc Ltd, Israel) and a thermode with a contact surface of 30x30 mm. Constant warm stimuli of one minute duration were delivered to the non-dominant hand of the participant.
Physiological assessments
The MP150 Data Acquisition System (BIOPAC Systems Inc., USA) was used to record the cardiac activity during the heartbeat-tracking task. Disposable pre-gelled Ag-AgCl electrodes (diameter 35 mm, EL502, Biopac Systems) were placed below the right clavicle and below the left lower rib to perform the standard precordial lead II electrocardiogram (ECG; ECG100C; 0.5 Hz high pass filtering, R-wave output mode, signal gain 500). Subjects were grounded through a similar electrode positioned below the right lower rib. ECG recordings were continuously computed during the heart rate perception measure. Physiological data collection and offline analyses of the frequency of the recorded R-waves were realized with the AcqKnowledge Software package (BIOPAC Systems Inc., USA).
Results
Demographic and statistical characteristics
After exclusion of twelve participants of the total sample of tested volunteers, the data of a final sample of N = 54 participants [26 males, 28 females, M = 24.1 years (SD = 6.01), range 18–51 years] were analyzed. Mean pain intensity ratings were in line with other results described in the literature (Boettger et al. 2011, 2013; Bouhassira et al. 2005; see Table 1) and allowed classifying n = 24 participants into the category of responders (44.4%; 10 males, 14 females) and n = 30 into the category of the non-responders (55.6%; 16 males and 14 females) to the thermal grill illusion of pain (see Table 1). The categorization of pain unpleasantness ratings yielded n = 19 responders (35.2%; 10 males, 9 females) and n = 35 non-responders (64.8%; 16 males, 19 females) to unpleasantness of the grill stimuli (see Table 1). Overall, twenty-seven participants (50%) displayed paradoxical pain and/or pain unpleasantness responses. Sixteen responders (29.63%) reacted in both the sensory and the affective pain dimension. Twenty-seven volunteers did not (n = 8) or only poorly respond (n = 19). The assessment of the skin temperature of the participants' dominant hand revealed a mean value of 32.89°C and a SD of 3.11.
When comparing responder and non-responder values with respect to the sensory and the affective pain ratings, non-parametric tests disclosed a highly significant difference between groups in both pain dimensions (p < .001). Post hoc comparisons showed that responders and non-responders differed importantly in rumination and in IA levels (p < .05). The investigation of the affective and cognitive personality trait and state data did mostly reveal higher mean scores in the responders than in the non-responders (see Table 1). The non-responders expected slightly more pain in the experiment than the responders and were somewhat more pessimistic. The analysis of the main WSS trials demonstrated that responders were more suggestible. Five responders felt the suggested warmth or increase of warmth in all three suggestibility tests, as compared to only two non-responding participants. During the generalization test of the WSS, the non-responders more often perceived the suggested warmth sensation in the contralateral body side. In general, the latter were slower in detecting the suggested heat sensation and perceived the simulated intensification stimulus at a smaller distance from the stimulation area. The suggestibility data of one participant were missing since this volunteer was familiar with the WSS. It should be stressed that the mentioned differences in pessimism, pain expectancy and suggestibility did not reach significance level (see Table 1).
Spearman's and Pearson's correlations
Pain intensity and pain unpleasantness highly correlated when all participants were included in the analyses (r = .79, N = 54, p < .001). In the same total sample, pain intensity and pain unpleasantness were significantly connected to rumination (intensity: r = .28, N = 51, p < .05; unpleasantness: r = .36, N = 51, p < .01). Correlations were also found between rumination and trait anxiety (r = .52, N = 51, p < .001), rumination and pain catastrophizing (r = .44, N = 51, p ≤ .001) as well as between rumination and optimism/pessimism (r = −.37, N = 50, p < .01). IA correlated highly with trait anxiety (r = −.40, N = 51, p < .005), state anxiety (r = −.30, N = 51, p < .05) and optimism/pessimism (r = .48, N = 49, p < .001). Trait anxiety was most importantly associated to trait pain catastrophizing (r = .46, N = 54, p < .001), state anxiety (r = .36, N = 54, p < .01), and inversely to trait optimism/pessimism (r = −.59, N = 52, p < .001). In the group of the responding participants, optimism/pessimism was significantly related to IA (r = .43, n = 23, p < .05), and negatively to trait anxiety (r = −.56, n = 25, p < .005) and pain expectancy (r = −.45, n = 25, p < .05). Similar relationships as in the whole sample analyses were found in non-responders when considering correlations of rumination and IA with trait anxiety. The link between rumination-brooding values of the RSQ and those of the rumination dimension of the PCS reached significance in all groups (all p < .05).
Suggestibility was not linked to pain intensity sensations. The analyses of pain unpleasantness and suggestibility correlations in the whole sample however revealed a strong correlation with concentration in the intensification suggestion (r = −.28, N = 53, p < .05) and with reaction time in the generalization suggestion (r = .35, N = 53, p < .05). In non-responders, an important negative association between the affective pain component and reaction time in the intensification suggestion (r = −.40, N = 27, p < .05) could be observed.
Logistic regressions (LR)
Predictors of the thermal grill illusion of pain
Trait
/
state variables
. In the context of pain intensity, we focused in our first LR model on the potential impact of trait pessimism/optimism, trait pain catastrophizing, trait anxiety, trait rumination, pain expectancy, and IA on the likelihood that participants experienced the TGI. The statistically significant full model [
X
2
(2,
N
 = 40) = 15.14,
p
 < .005] showed that rumination and IA significantly contributed to the predictive ability of the model (all
p
 < .05). The other independent variables did not add to the probability of a TGI occurrence. The model including rumination and IA explained between 31% (Cox and Snell R square) and 42% (Nagelkerke R square) of the variance in the TGI perception. 77.5% of the cases were correctly classified (i.e. 76.5% of the responders and 78.5% of the non-responders to the TGI). Rumination was the strongest predictor of paradoxical pain and presented an odds ratio of 35.86 (CI 2.33, 551.67; see Table
2
). This result specifies that in case the rumination characteristic is under control in the model, ruminative persons are about 35 times more likely to perceive the illusion of pain than those who ruminate less. The odds ratio for IA was 20.19 (CI 1.80, 226.81; see Table
2
), which signalizes that individuals who perceived their heartbeats more accurately had a 20 times higher probability to feel the paradoxical pain than less interoceptively accurate candidates. The second LR model we used included the suggestibility variables. No potential predictor of the TGI could be identified in this model.
Table 2
Significant predictors of pain intensity and pain unpleasantness perceptions during thermal grill stimulation
B

S.E.

Wald

df

p

Odds ratio

95.0% C.I. for odds ratio

Predictors for pain intensity:

Lower

Upper

Rumination

3.58

1.39

6.59

1

.01* 2

35.86

2.33

551.67

Interoceptive Accuracy (IA)

3.01

1.23

5.93

1

.01*

20.19

1.80

226.81

Interaction Terms:

State Anxiety x Rumination

.51

.21

5.75

1

.02*

1.67

1.10

2.55

Pain Expectancy x Rumination

.46

.20

5.40

1

.03*

1.48

1.04

2.13

Pessimism/Optimism x Rumination

1.03

.36

8.13

1

.004**

2.81

1.38

5.70

IA x Rumination

.53

.20

7.38

1

.007*

1.71

1.16

2.51

IA x Pain Expectancy x Rumination

.10

.04

6.49

1

.01*

1.11

1.02

1.20

Predictors for pain unpleasantness:

Rumination

3.42

1.62

4.45

1

.03*

30.72

1.28

738.85

Suggestibility (WSS):

Intensification Test – Concentration

-.88

.45

3.71

1

.05*

.42

.17

1.01
Trait/state – interaction terms. The study of interacting trait/state predictors of the TGI outcome showed that rumination also considerably supported the paradoxical pain elicitation when interacting with state anxiety [X 2 (1, N = 49) = 7.73, p < .05; .15 (Cox and Snell), .20 (Nagelkerke)], pain expectancy [X 2 (1, N = 50) = 6.86, p < .05; .13 (Cox and Snell), .17 (Nagelkerke)], optimism/pessimism [X 2 (2, N = 51) = 12.85, p < .005; .22 (Cox and Snell), .30 (Nagelkerke)], and IA [X 2 (1, N = 48) = 10.93, p < .01; .20 (Cox and Snell), .27 (Nagelkerke)] (see Table 2). Between 63.3 and 75% of participants were correctly classified in these interaction models. Even a three-factor interaction term involving rumination, IA, and pain expectancy contributed significantly to the TGI prediction (p < .05). The predictive ability of this model was important [X 2 (1, N = 48) = 8.84, p < .05] and explained between 17% and 22% of the variation in the pain intensity outcome. 75% of the participants (71.4 responders and 77.8% of non-responders) were correctly classified in the model. It could be seen that overall the likelihood of the appearance of the TGI was one to two times higher in those individuals with interacting personality features than in those without related characteristics (odds ratios varied between 1.11 and 2.81; see Table 2). It was further observed that trait anxiety and trait pain catastrophizing did not act on the probability of the TGI appearance. State anxiety, optimism/pessimism, and pain expectancy only had an effect on the prediction of pain when associated with perseverative thinking.
Predictors of pain unpleasantness perceptions
Trait/state variables. Regarding the prediction of pain unpleasantness outcomes in the present research, the inclusion of all previously described trait/state predictors in the logistic regression analyses again identified rumination as major influencing factor in the significant full model [X 2 (1, N = 40) = 6.68, p < .05]. The predictor clarified between 15% (Cox and Snell) and 23% (Nagelkerke) of the dispersion in pain unpleasantness. The model allowed categorizing 75% of the volunteers in the appropriate group (i.e. 96.7% responders, 10% non-responders). Ruminators were 30 times more likely (Odds ratio of 30.72; CI 1.28, 738.85) to distinguish the repulsiveness of the thermal grill than non-ruminating individuals. Interacting trait/state variables did not have a predictive probability effect on the affective-motivational pain component.
Suggestibility-related LR results demonstrated that concentration assessed during the intensification suggestion significantly predicted the likelihood of pain unpleasantness perceptions induced by the grill (p ≤ .05). The model performed significantly well [X 2 (1, N = 53) = 4.15, p < .05] and explained 7% to 10% of the variance in the dependent variable. Overall, 69.8% of the volunteers were correctly classified. The odds ratio of .42 inferior to 1 specified that less concentrated participants were more likely to report unpleasantness (see Table 2).
Discussion
The psychophysical results of the present research are in agreement with previously described thermal grill-related pain ratings (Boettger et al. 2011, 2013; Bouhassira et al. 2005) and demonstrate that the applied temperature combination of 15°C and 41°C (26°C difference) yielded similar intensity and unpleasantness ratings of paradoxical pain. The evaluation of the pain scores and personality variables allowed classifying and characterizing responders and non-responders to the thermal grill stimulation paradigm. In this context, it should be emphasized that there is no generally accepted criterion for the discrimination of the two categories. As mentioned in the methods section, we chose a cut-off point of ≥ 25-NRS situated at equal distance between the 20-NRS score (GPT) and the 30-NRS score 'very weak pain'. This value allowed us to exclude highly variable near threshold ratings from the statistical analyses. It corresponds to 5/100-NRS on standard 100 mm rating scales and hence is in the range of values considered as reliable indicators of pain (Boettger et al. 2013).
With regard to the inter-individual differences in TGI sensitivity, our results are to the best of our knowledge the first providing evidence that psychological factors in the form of cognitive and affective personality characteristics have an impact on the probability of the TGI occurrence. It could especially be established that individuals displaying high levels of trait rumination and interoceptive accuracy are more prone to perceive the illusive pain in response to the innocuous TG-stimulation. In addition, these novel findings may be relevant in the context of central neuropathic pain, which has been shown to share common neural mechanisms with respect to dysfunctional interactions between thermo-sensory and nociceptive processing (Craig et al. 1996, Craig 2008, Kern et al. 2008). The identification of significantly involved psychological factors may therefore be seen as an important contribution to the elucidation of central neuropathic pain processing and may in the longer term be relevant for the development of novel assessment and treatment strategies.
Conclusion
We were able to confirm our hypothesis that the psychological factors rumination, interoceptive accuracy, and suggestibility are substantially involved in the individual pre-disposition to reporting painful sensations in the thermal grill paradigm. Further studies aiming at characterizing the impact of additional potentially involved psychological constructs (like emotional self-regulation) will be conducted to further the understanding of thermal grill-related illusive pain and concomitantly the elucidation of dysfunctional thermo-sensory processing as observed under conditions of neuropathic pain. In the long term, the respective sets of data may contribute to the development of novel assessment and treatment strategies.
Declarations
Acknowledgements
We gratefully acknowledge the advising support of Dr. Gilles Michaux, Luxembourg, and the expert technical assistance of Dr. Immo Curio, Medical Electronics, Bonn/Germany, who built the thermal grill used in the present study. We also thank our student assistant Jérôme Goedertz for his help with data acquisition. No conflict of interest is associated with the present study. Raymonde Scheuren was financially supported by a grant (AFR-PhD2010 1/784732) from the National Research Fund, Luxembourg.
Authors' Affiliations
(1)
Institute of Health and Behaviour, Integrative Research Unit on Social and Individual Development, University of Luxembourg, Luxembourg, Luxembourg
(2)
Section of Psychology, Lillehammer University College, Lillehammer, Norway
(3)
Research Group Health Psychology, University of Leuven, Leuven, Belgium
(4)
Department of Psychosomatic Medicine, Division of Surgery and Clinical Neuroscience, Oslo University Hospital – Rikshospitalet, Oslo, Norway
Copyright
© Scheuren et al.; licensee BioMed Central Ltd. 2014
This article is published under license to BioMed Central Ltd. This is an Open Access article distributed under the terms of the Creative Commons Attribution License (http://creativecommons.org/licenses/by/4.0), which permits unrestricted use, distribution, and reproduction in any medium, provided the original work is properly credited. The Creative Commons Public Domain Dedication waiver (http://creativecommons.org/publicdomain/zero/1.0/) applies to the data made available in this article, unless otherwise stated.