Research article

Open Access

Open Peer Review
This article has Open Peer Review reports available.
Parents' perceptions on offspring risk and prevention of anxiety and depression: a qualitative study
Received: 21 February 2014
Accepted: 11 June 2014
Published: 30 June 2014
Abstract
Background
Offspring of patients with anxiety or depression are at high risk for developing anxiety or depression. Despite the positive findings regarding effectiveness of prevention programs, recruitment for prevention activities and trials is notoriously difficult. Our randomized controlled prevention trial was terminated due to lack of patient inclusion. Research on mentally-ill parents' perceptions of offspring's risk and need for preventive intervention may shed light on this issue, and may enhance family participation in prevention activities and trials.
Methods
Qualitative data were collected through semi-structured interviews with 24 parents (patients with anxiety or depression, or their partners). An inductive content analysis of the data was performed. Five research questions were investigated regarding parents' perceptions of anxiety, depression, and offspring risk; anxiety, depression, and parenting; the need for offspring intervention and prevention; and barriers to and experiences with participation in preventive research.
Results
Parental perceptions of the impact of parental anxiety and depression on offspring greatly differed. Parents articulated concerns about children's symptomatology, however, most parents did not perceive a direct link between parent symptoms and offspring quality of life. They experienced an influence of parental symptoms on family quality of life, but chose not to discuss that with their children in order to protect them. Parents were not well aware of the possibilities regarding professional help for offspring and preferred parent-focused rather than offspring-focused interventions such as parent psycho-education. Important barriers to participation in preventive research included parental overburden, shame and stigma, and perceived lack of necessity for intervention.
Conclusions
This study highlights the importance of educating parents in adult health care. Providing psycho-education regarding offspring risk, communication in the family, and parenting in order to increase parental knowledge and parent–child communication, and decrease guilt and shame are important first steps in motivating parents to participate in preventive treatment.
Keywords
Prevention
Offspring
Anxiety
Depression
Parent
Participation
Qualitative Research
#15 "It is not a question whether they [the children] will be affected, but rather what the effects will be."
Background
Anxiety and depressive disorders are highly prevalent, and often co-occur, posing a huge burden on patients (Whiteford et al. 2013; De Graaf et al. 2012). Parental anxiety and depression present a significant threat to the mental health of their offspring. Children of anxious and depressed parents are at 3 – 4 times greater risk for developing these and other psychiatric disorders than children in the general population (Lieb et al. 2002; England & Sim 2009; Micco et al. 2009). Therefore, developing and testing the efficacy of interventions to prevent adverse outcomes in this population is of utmost importance.
To the best of our knowledge, five randomized controlled trials have specifically focused on preventing psychopathology in offspring of patients with anxiety (Ginsburg 2009) or depressive disorders (Beardslee et al. 2007; Clarke et al. 2001; Compas et al. 2009). Results of these prevention interventions seem positive, with interventions decreasing the risk for anxiety and depression by 41% (relative risk = 0.59) (Siegenthaler et al. 2012). Looking in more detail at the recruitment phase, however, targeted interventions seem to be subject to an important limitation: many contacted parents and offspring decline participation. For example, in the sample used by (Clarke et al. 2001), the 94 adolescent offspring (aged 13–18) of adults treated for depression were derived from an initial sample of nearly 3000 parents and 3400 youth, of which 2250 families actively declined participation.
To contribute to this body of research, our own group also designed a prevention study for offspring, consisting of a screening and a randomized controlled trial. Notably, this study took the following features into consideration: first, that anxiety and depression are highly comorbid (Kessler et al.
2005
) and, second, that intergenerational transmission of disorders is non-specific (Micco et al.
2009
; Beidel & Turner
1997
). The study thus targeted both anxiety and depression and was designed for offspring with current subdiagnostic levels of anxiety and depressive symptoms. It assessed additional risk factors, in order to select a high risk group to enhance treatment impact (Nauta et al.
2012
).However, recruitment difficulties prevented completion of the original project. Across a period of 30 months, although we managed to screen as many as 11079 files, and sent 1297 information letters to families, only 78 positive reactions were obtained; recruitment was only 6% of the planned sample. Subsequently, we conducted baseline assessments and screening on 63 children and eventually we were only able to randomize 26 high risk children (of the 204 needed for sufficient power). This small sample size finally led to cancellation of the RCT. For inclusion and attrition of participants see Figure
1
.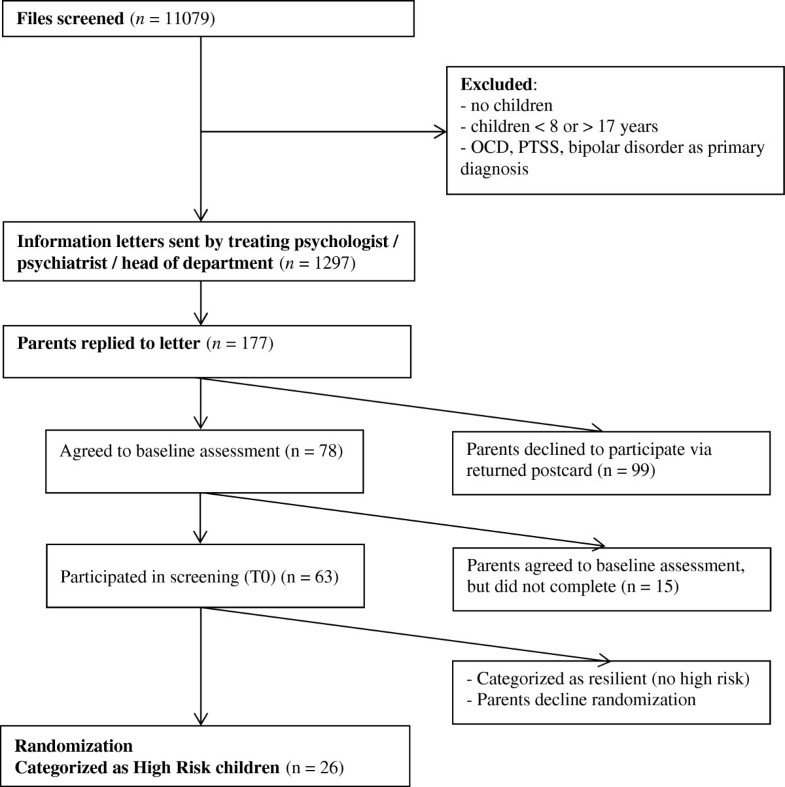 It became evident to us that this specific group of parents and offspring is generally reluctant or hesitant to participate in preventive research. In order to enhance participation in prevention activities, we reasoned that it would be important to obtain more insight into the perspectives of the target group. Qualitative studies are suitable for exploring the actual experiences and perceptions of patients, since they allow scope for patients' narratives without being constrained by specific hypotheses of the researcher, and without being led by questionnaires and predefined items. Especially when little is known about the researched phenomenon, as in this case, qualitative research seems most appropriate.
In fact, qualitative studies have contributed to the understanding of various clinical issues, including patients' needs and wishes (Kuper et al. 2008). Using qualitative methods to study the perspectives of patients may even suggest new themes that are overlooked in quantitative research (Schipper et al. 2013). The perspectives of the parents are of importance when one is conducting prevention research with children: they are pivotal in the process of evaluating the needs of their children. Furthermore, knowledge about the perspectives and needs of the mentally ill parent and the partner will be crucial in the decision making on participation in prevention activities.
What studies are available on this topic in the scientific literature? Research on patients' perspectives on prevention for their offspring (i.e., with regard to anxiety and depression) is limited. Only a few qualitative studies have specifically reported on mentally ill parents' barriers to participation in offspring intervention. Boyd, Diamond, and Bourjolly (Boyd et al. 2006) conducted focus groups with 18 mothers with depressive disorders or schizophrenia, discussing depressive symptoms, generational legacy, parenting difficulties, child problems, social support, stressful life events, therapy and other helpful activities, and desired (preventive) family treatment. They concluded that barriers for mothers in attending such an intervention included time constraints with school schedules, older children refusing to participate, embarrassment, and juggling with many demands. However, these barriers mostly related to the stressful life conditions and limited resources of low income, urban, ethnic minority, single mothers in the sample. It remains unclear whether these barriers hold for depressed parents in general.
Another study by Stallard et al. (Stallard et al. 2004) was not specifically on depressed mothers, but included 24 parents with a variety of severe mental disorders (psychosis, schizophrenia, bipolar disorder, and personality disorders). In this study, major problems in recruitment were also reported: for example, an initial parent–child group training was abandoned due to a lack of referrals. Parents themselves reported three main barriers to taking part in the preventive research. First, parents' own needs for treating their mental health problems overwhelmed and obscured the needs of their children. Second, the responses of a number of parents suggested that they did not recognize or acknowledge the possible adverse effects of their illness on their children. And last, parents wanted to protect their children from further distress.
These two studies, however, lack information that may be relevant in the context of prevention activities. First, they only included patients and did not encompass partners' perspectives. Also, the studies included broader samples of patients with a range of axis 1 and 2 disorders instead of a more specific group with possibly specific needs. Secondly, previous studies have not addressed parents' perceptions of the need for professional help for offspring, or attention to this topic in parent treatment. Finally, barriers to optimal child (preventive) treatment have only been addressed in general terms; previous studies have not directly addressed barriers to participation in a randomized controlled trial. The latter seems critical: recruitment barriers appear to be common in randomized controlled trials (Ross et al. 1999) and may give rise to specificity of the collected sample (selection bias), affecting the validity and increasing the risk of not reaching a specific group of participants.
In sum, offspring of anxious and depressed parents are at high risk for developing these disorders themselves. Therefore, there is an urgent need for preventive research. However, recruitment of an adequate number of research participants has proven to be challenging. As parents are central figures in obtaining access to their children, insight in parents' perspectives is important. It has been theorized that before investigating parents' reasons for (not) participating in a study on offspring risk for anxiety and depression, parents' perceptions of offspring risk and resilience, and whether parents' link their own psychopathology and parenting style to offspring risk should be first investigated. Therefore, the current study uses qualitative interviews with a broad group of parents (patients and partners, mothers and fathers, with anxiety and depression, with several levels of severity) to investigate the following research questions:
1.

What are parents' (fathers and mothers, patients and partners) experiences with regard to their own depressive and anxiety disorders and their children's vulnerability and resilience?

2.

What are parents' experiences with regard to their own depressive and anxiety disorders and parenting?

3.

What are parents' experiences with professional help and is there a perceived need for professional help (e.g. preventive interventions) for their children?

4.

What are parents' reasons for (not) participating in a prevention study (screening and a randomized controlled trial) with their children?

5.

What are parents' experiences with regard to participating in a prevention study?
Results
The analysis resulted in two main themes per question, with several subthemes, which are discussed below. For an overview, see Table
2
.
Table 2
Overview of research questions and main themes
Research question

Main themes

1. What are parents' experiences with regard to their own depressive and anxiety disorders and their children's vulnerability and resilience?

- Impact on Quality of Life (QoL) of the children

- Parental concerns about the mental health status of children

2. What are parents' experiences with regard to their own depressive and anxiety disorders and parenting?

- Impact on family QoL

- Communication about parental illness

3. What are parents' experiences with help for their children and is there a need for help (e.g. preventive interventions)?

- Lack of focus on children in parental treatment

- Parental perspectives on the need for professional help for children

4. What are parents' reasons for (not) participating in a prevention study with their children?

- Reasons for not participating: parental overburden, child burden, child refuses to participate, stigma, shame, no worry about children

- Reasons for participating: need for prevention, helping others, importance of research, child likes to participate

5. What are parents' experiences and advice with regard to participation in a prevention study?

- Positive experiences: personal information from therapist, 'depth' in conversations with offspring

- Negative experiences: too many measurements and questionnaires
Discussion
The purpose of this study was to obtain qualitative data on parents' perspectives on parental anxiety and depression, parenting, offspring risk, and the need for and barriers to parent participation in offspring preventive health care, offspring screening and randomized controlled trials (in order to shed some light on the low participation rates of families in offspring prevention). We conducted 24 interviews with parents (both patients and partners, fathers and mothers). Even though parental perceptions and experiences regarding offspring risk, vulnerability, communication and the need for (and the importance of) preventive intervention varied widely, some general themes emerged, as summarized below.
Strengths and limitations
Major strengths of this study are the inclusion not only of patients and mothers, but also partners and fathers, and using purposeful sampling rather than convenience sampling. Furthermore, the data represented here are based on participant's responses to open-ended questions collected using semi-structured interview schedules, which increases the validity of the findings. Another important strength of this study is the enquiry of parent perspectives and barriers in a group of parents that did or did not participate in an prevention study. Therefore, the barriers mentioned were not hypothetical, but rather direct experience. Furthermore, to obtain these perspectives and experiences, interviews were conducted by psychologists, aided by trained parent interviewers who resembled the group of interest. This strengthened our results by building rapport during the interview, establishing trust and preventing jargon and socially desirable answering (Abma et al. 2009; Nierse et al. 2012).
However, this study also has a number of limitations. First of all, this sample consisted of parents who agreed to be interviewed about their or their partner's anxiety or depressive disorder, offspring and parenting, suggesting that these parents had insight into their illness and valued their parental roles. Thus, this sample might not represent parents who are less inclined to talk about caring for their children. In addition, the sample size of our study was relatively small compared to a quantitative study. However, in grounded theory, sample size is determined by data saturation and theoretical completeness (Charmaz 2006), which can already be achieved after 12 interviews (Guest et al. 2006). Finally, although the perceptions of parents give interesting input to develop preventive activities, these views may not necessarily be best to follow. Wishes are different from effective strategies. Only a controlled evaluation of the efficacy of any newly developed strategy should be the basis of any subsequent changes in policy or intervention.
Conclusions
Patients in adult mental health care should be given the opportunity to attend parent psycho-education groups, where knowledge of impact of disorders on child and family QoL and parent–child communication is strengthened, and guilt- and shame-related topics are tackled. A second step can be to provide opportunities for screening on child symptoms and functioning, and referral to youth mental health centers if necessary. Such an infrastructure may also facilitate participation in research trials, by increasing parental knowledge, decreasing guilt and shame, and changing to less "burdening" preventive interventions.
Future studies should then investigate the efficacy of these proposed interventions. Furthermore, mental health care professionals' opinions on parent-related interventions should be investigated in order to effectively implement a more parent-focused approach in adult mental health care. Last, in order to pave the way for a discussion about offspring in adult mental health care, it is important that information about offspring is added in the guidelines for mental health care professionals working with adults. While current guidelines for health care professionals in child and youth psychiatry recommend that offspring of depressed parents should be referred for depression assessment (National Institute for Health and Care Excellence 2005), information on offspring is currently lacking in guidelines on the treatment of mental health problems in adults (e.g., National Institute for Health and Care Excellence 2009).
Endnote
aThe Norway attack in 2011: A man opened fire at the participants of the Labour Party's youth camp, killing 69 of them.
Declarations
Acknowledgments
This study has been funded by the Prevention program of the Netherlands Organization for Health Research and Development (ZonMw prevention, nr. 120620024). The authors want to thank all participating parents. Also, we want to thank Liza Muskee, Nienke Boersma, and Sophie Esselink for conducting the interviews, and the three mothers who helped to conduct the interviews as parent interviewers. Finally, we are grateful to Kate McIntyre for her help with translating and back-translating the citations in this paper, and to prof. dr. Maggie Stroebe-Harrold for commenting on the final version of the manuscript.
Authors' Affiliations
(1)
Department of Clinical Psychology and Experimental Psychopathology, University of Groningen, Groningen, The Netherlands
(2)
Department of Medical Humanities, VU University Medical Center, Amsterdam, The Netherlands
(3)
Mental Health Care Friesland (GGz Friesland), Leeuwarden, The Netherlands
(4)
Curium-LUMC, Leiden University Medical Center, Leiden, The Netherlands
(5)
EMGO + Institute for Health and Care Research, VU University Medical Center, Amsterdam, The Netherlands
(6)
Child and Adolescent Psychiatry, University Medical Center Groningen, Groningen, The Netherlands
Copyright
© Festen et al.; licensee BioMed Central Ltd. 2014
This article is published under license to BioMed Central Ltd. This is an Open Access article distributed under the terms of the Creative Commons Attribution License (http://creativecommons.org/licenses/by/4.0), which permits unrestricted use, distribution, and reproduction in any medium, provided the original work is properly credited. The Creative Commons Public Domain Dedication waiver (http://creativecommons.org/publicdomain/zero/1.0/) applies to the data made available in this article, unless otherwise stated.